BlackBerry® smartphones excel when it comes to working with large amounts of e-mail. Many of the new models feature a trackball which can be used to navigate and select items.
Because the BlackBerry smartphone is a telephone, it ships configured to allow easy dialing from the Home screen. To dial from the Home screen, press the number keys and then press
Send
or the
Enter
key.
For BlackBerry smartphones with physical QWERTY keyboards, this "Home screen" functionality makes tapping in a phone number a snap — or more precisely, a tap. However, disabling Home screen dialing will enable Home screen shortcuts for many of the built-in BlackBerry apps. Shortcuts on the Home screen can help reduce scrolling.
To Enable Home Screen Shortcuts, disable "Dial From Home Screen"
Navigate to the Home Screen.
Press the Send key to launch the BlackBerry Phone application.
Press the Menu key, then click Options.
Click General Options.
Set Dial From Home Screen to No.
Press the Menu key, then click Save.
With "Dial From Home Screen" disabled, a number of Home screen shortcuts become active. Shortcuts like "
A
" for Address Book, "
M
" for Messages, and "
O
" for Options, are just a few.
Depending on the version of BlackBerry® Device Software, the smartphone may underline the corresponding shortcut key for the selected Home screen item. (See screenshot below.)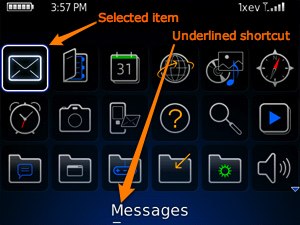 Do you use a BlackBerry smartphone?
Leave a response
and let us know if this tip gets a "thumbs up."